Trying to decide between ash blonde hair colors vs ash brown hair colors? you are not alone. These two trendy shades are similar in many ways, but there are also some key differences to consider before making the final decision.
Read on to learn more about the differences between ash blonde and ash brown hair colors so you can choose the one that's right for you.
A quick comparison between Ash Blonde and Ash Brown:
| | ash blonde | Ash brown |
| --- | --- | --- |
| How does it look | A cool shade with subtle highlights ranging from light brown silver to gray. | A cool shade that combines shades of brown and gray with hints of other colors. |
| shadow | Brighter and more noticeable because of more clarification. | Darker, provides a cool but bright look with colors like silver or gray. |
| maintenance | Requires more frequent shampooing and conditioning to prevent frizz. | Enjoy color-safe nourishing formulas to maintain moisture and vibrancy. |
| Accents and depth | Requires platinum or white highlights for added depth. | Requires chocolate or coffee colored accents for added depth. |
| Ideal for | Light and olive skin tone. | rich, warm and neutral skin tone; Can contrast nicely with dark skin. |
| duration | Can remain viable for several weeks or months with other appropriate treatment. | Tends to last longer due to the need for less intensive maintenance. |
| transition | Requires careful bleaching and aftercare during initial application. | Can go from ash blonde without lightening; Instead, add pigment. |
| trendy | Gaining popularity with a unique and sophisticated twist on a classic blonde. | A cool and attractive color that offers a unique look without a drastic change. |
| Shade of a color | Ash blonde is a cool-toned hair color that can look frozen and smooth. It makes more sense that turn brass. | Ash brown is a cool toned hair color that is less likely to turn brassy. |
| skin undertones | Complements cooler skin undertones. | Works well with both warm and cool tones, making it more versatile. |
| potential damage | Includes more bleaching, therefore more potential hair damage. | Less potential for hair damage as it does not involve intense bleaching. |
| highlighting options | Usually uses highlights in cooler shades like platinum or ice blue. | Usually uses warmer tones for Highlights like chestnut or chestnut. |
ash blonde
Ash blonde hair color is a cool shade consisting of subtle highlights ranging from a light silvery brown to a shade of gray.
This elegant and chic shade adds depth and dimension to any hair color, providing a unique shimmery look that stands out from more typical honey and caramel hues.
Ash brown
Ash brown hair color It is a cool and attractive hair color that gives the wearer a unique look. It's a great way to make an impression without being drastic Changing your natural hair color.
Ash brown combines shades of brown and gray with hints of other colors such as blue, green or purple – depending on which shade of ash brown you choose.
Ash Blonde Vs. Ash Brown: What are the differences?
while both Gray colors Having an icy tone and it can give you a smooth and sophisticated look, there are some fundamental differences between ash blonde hair and ash brown hair. Below, we'll review these differences so you can decide which one is right for you.
shadow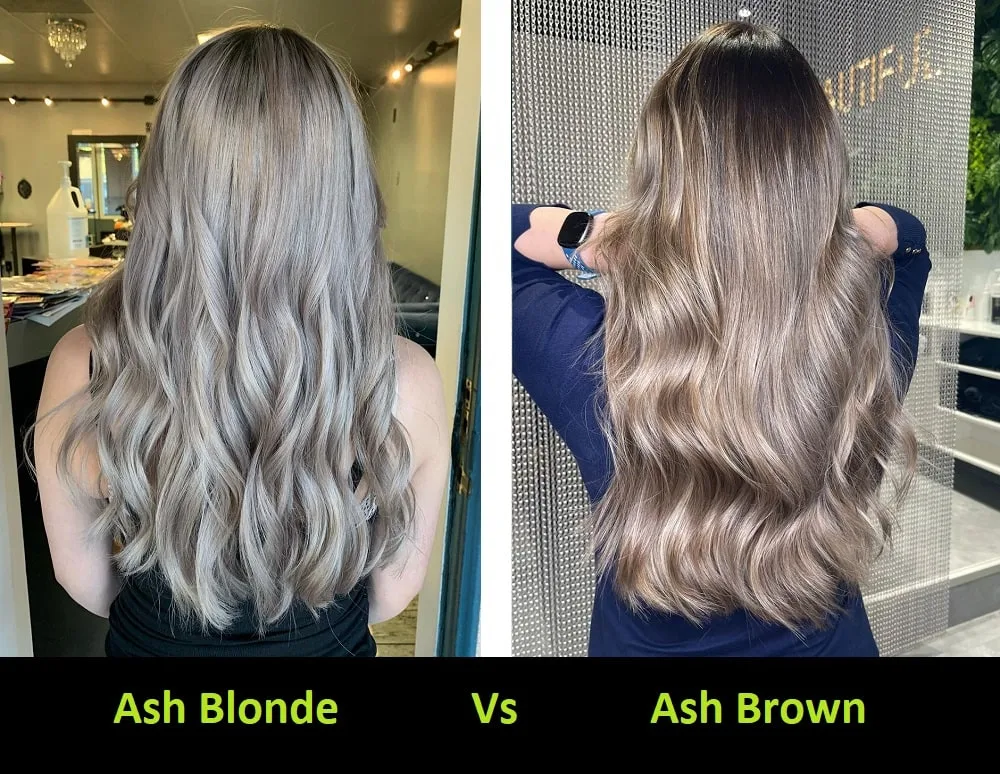 Ash blonde tends to be a little lighter and more noticeable than ash brown because it requires more lightening to achieve. With ash blonde hair, a stylist will lighten your base color to your desired shade and then add toner and glosses to achieve that special cool ash shade.
Ash brown, on the other hand, is darker. Instead of lightening your base hair color, ash brown just lightens some of it with cool but bright colors, like silver or gray.
maintenance
Ash brown and ash blonde are great hair colors for those who want a natural shade without being too dark or too light. However, when it comes to maintenance, the two colors have slightly different considerations.
You'll need to shampoo and condition ash blonde hair more often than ash brown, like Blonde colors Can be brass due to excess exposure to the sun and other environmental factors.
Plus, while both colors benefit from using a color-safe shampoo, you'll do your best to use nourishing formulas that help keep your ash-brown hair moisturized and alive.
Accents and depth
It may seem like a blanket choice to choose A New hair color. You choose blonde, and your stylist dyes it blonde, right? Wrong. Both ash blonde and ash brown require additional highlights and shades to create depth, dimension and achieve the ideal color you desire.
To achieve the ash blonde color, your stylist will apply platinum or white highlights instead of the chocolate or coffee highlights used on ash brown hair.
Who does it look best on?
Another main difference between ash blonde hair and ash brown hair is who the colors look best on. Ash blonde hair looks especially soft and romantic on fair skin. It can help accentuate the porcelain skin tone while giving the face some much needed definition.
Olive-toned people are also able to use this hair color to create a perfect balance of warm and cool tones. The trick is to find an ash shade that isn't too ash or sandy in tone.
Ash brown hair looks best on rich, warm, neutral skin tones. And depending on the severity of the ash shade and the desired effect, it can even give a nice contrast to dark skin.
duration
Many people mistakenly assume this Ash blonde hair color It won't last, but the reality is completely different. The longevity of ash blonde hair depends on how it was applied and how it was cared for afterwards.
With proper other care, such as using a purple shampoo to prevent yellowing or brassiness and avoiding too much sun or chlorine exposure, ash blonde can stay alive for several weeks or even months.
It is also essential to make an appointment with a professional hair stylist who specializes in color care when applying ash blonde dye because bleaching hair can cause serious damage if done incorrectly. By doing this, you can ensure that your hair looks great every day.
Similarly, ash brown hair can last quite a long time with proper maintenance and care. However, ash brown hair will likely last longer than ash blonde hair because it doesn't require as much maintenance as ash blonde.
For example, if you swipe on shades of ash blonde hair, you'll lose that color quickly, while you won't with ash brown hair.
Can I go ash blonde to ash brown without bleaching?
You can go from ash blonde to ash brown without having to Lighten your hair first Because the base color is already similar to the starting point of brown-ash.
Instead of bleach, going from a lighter shade to a darker shade requires re-pigmenting your hair with dyes, glosses and toners. Even though none of these products require bleach, you can still expect to move and a lot of time in the salon to get your hair a darker shade.
You may also need to do more frequent touch-ups for shine or toner to keep the color from fading.
So what is the difference between ash blonde hair and ash brown hair?
Ash blonde and ash brown hair differ in shade, maintenance, duration, depth, and who it looks best on. If you're still undecided, we recommend trying a few samples before making your final decision.
And as always, consult your trusted stylist to get their professional opinion on which shade will work best.
Common questions
Still not sure what ash blonde and ash brown hair colors are? Want to know more about each? We've got some more frequently asked questions about both below.
Is ash brown suitable for dark skin?
The simple answer to the question of whether ash-brown is suitable for dark skin is yes. A cooler shade of brunette is universally appealing and brings out the subtleties in any skin tone.
Is ash blonde the lightest shade of blonde?
Ash blonde is one of the lightest shades of blonde, but it is not the lightest. The lightest shade of blonde is platinum which is as close to white as blonde hair can go.
Is ash blonde hair color trendy?
Ash blonde hair color is quickly gaining popularity, with many celebs and Instagrammers sporting the look. It offers a great alternative to classic blonde, as it has an air of sophistication while staying on trend.
related topics
Other Articles