If you're like us, then you've seen the Glass hair trend Absolutely everywhere, from celebrities on the red carpet to your TikTok FYP. Glass hair is one of the hottest trends of 2023 and we're here for it!
We absolutely love this trend because it's absolutely gorgeous and insanely easy to do at home!
And there's no gatekeeping here, we're going to give you the lowdown on how to make red carpet ready glass hair in a few simple steps.
What is glass hair?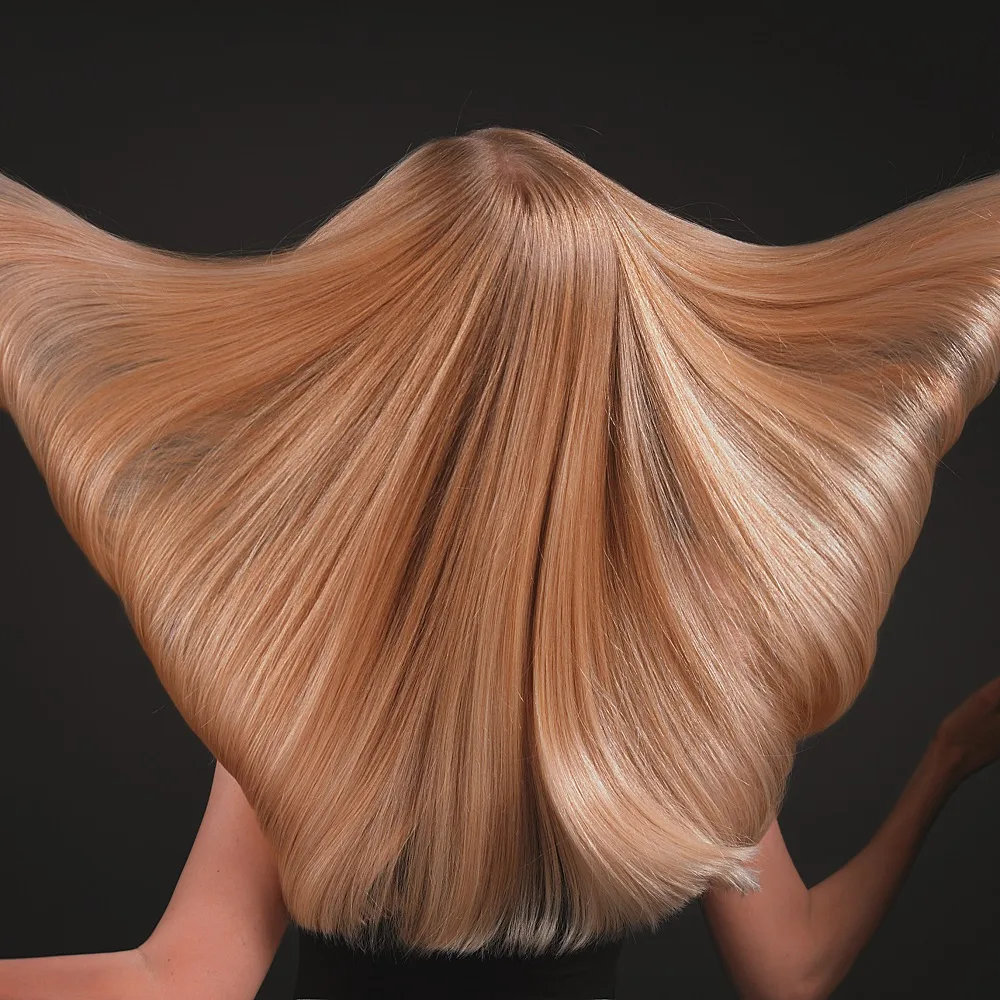 Before we give you the steps to achieve glass hair, let's first talk about where this hairstyle got its name.
Glass hair is basically just ultra smooth and shiny hair. When the hair is super shiny it reflects light just like glass and therefore where this hair trend gets its name. Glass hair is meant to look smooth and simple with the shine being the main attraction.
How to get glass hair
Glass hair is easily achievable at home with just a few tools and products. Follow our steps to get the most radiant hair around.
Pro tip: If your hair is damaged or not feeling its best, you might want to skip glass hair for now. This style requires a good amount of heat and fine hair may not be able to handle it. Healthy hair always comes first!
Shampoo and condition hair
You'll want to have freshly washed and moisturized hair to achieve this tousled look. We usually love hair on a Monday but not when it comes to this particular look.
Be sure to use shampoo and conditioner. If you have extra time, use a hair mask to give you an extra boost of moisture. This will help ensure the highest amount of shine possible. Remember that dry hair will not be shiny hair, so give that hair plenty of moisture!
Apply oil and heat protectant
Our favorite product to apply before blow drying to get glass hair is hair oil. Hair oil will give you the sleekest locks possible by adding extra moisture, shine and frizz control.
Apply the oil to damp hair from mid-lengths to ends (avoid getting it into the scalp as it can give a greasy look instead of glassy).
It is also very important to use a heat protectant on your hair after washing. This style uses a lot of heat making heat protection a crucial part of your glass hair routine!
Hair Dryer
After applying your styling products, it's time to blow dry that hair. When blow drying glass hair, you'll want to try to get the smoothest possible blow dry so you don't have to spend hours flat ironing afterwards.
We recommend using a boar bristle brush while you dry. A boar bristle brush will give you the most tension which will make smoothing the hair easier.
Dry your hair in sections, working backwards to the face. You can use claw clips to keep your hair organized so you can make sure each section is completely dry. Blow the air from the dryer down the shaft of the hair so that it helps the hair nail to sit flat, the brush will hold the hair firmly while drying.
It is important that your hair is 100% dry before proceeding to the next step! Flat ironing damp hair can damage your hair and that flat iron!
flat iron
Take super small sections of hair and run the hair iron over each one. Your hair should be smooth after blow drying, but the flat iron is what's really going to give you that glassy finish.
Taking smaller sections will ensure that you don't miss any strands and that your hair stays smooth and shiny all day.
Professional tip: When smoothing your roots with the flat iron, you can use a fine tooth comb (make sure it's designed for heat styling). Lift the section of hair at the root with the comb and then go in with your flat iron. This will make it easier to get the flat iron as close to your head as possible without burning yourself!
Apply finishing product
Now that you've put in the work to get glass hair, you'll want that shiny, smooth finish to last all day. We recommend using a high shine hairspray for your finishing touch. This will preserve the glassy appearance and ensure that flies do not pop up throughout the day.
If you have small curls that won't look like they're laying down even after all the steps, spray hairspray on the palm of your hand and run it lightly through each parting.
And here you go! Our quick and easy steps to achieve glass hair. Try it out for your next night on the town, but be careful not to catch anyone's eye with that shiny, shiny hair!
Key things to remember:
Glass hair is all the rage in 2023.
Glass hair is smooth and shiny hair that can be obtained at home in a few simple steps.
Take small sections when blow drying and flat ironing to make sure you get the glassy effect.
You don't need a lot of product to achieve glass hair but the ones you do use are super important.
Remember to have hair oil, heat protectant and hair spray on board.
Rock that glazed hair on the town!
Other Articles