My favorite green smoothie recipe! This healthy and delicious drink is easy to make in a blender, and it's full of leafy greens and fresh fruit.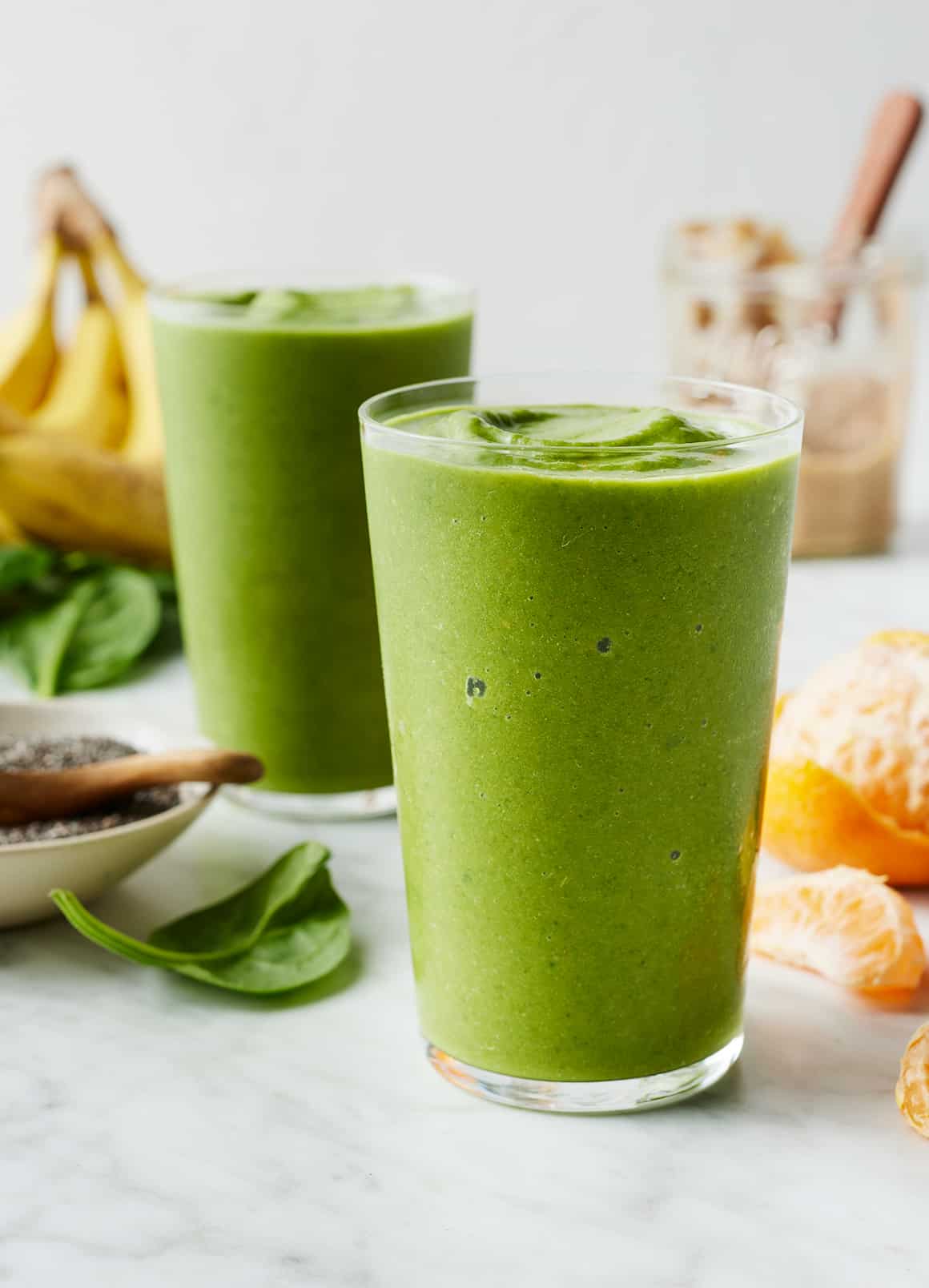 New year, new green smoothie recipe! Ok, actually, this recipe is not new new, but it's new to the blog. Behind the scenes, this is my favorite green smoothie recipe, the one I make whenever I want to pack a bunch of fruits and vegetables into a meal and enjoy them like dessert. It's thick and frosty, slightly sweet, and full of fresh produce like citrus, spinach, and bananas. If you're looking for a new healthy breakfast or snack to add to your rotation, I can't recommend it enough.
Green Smoothie Recipe Ingredients
Here's what you'll need to make this green smoothie recipe:
Leafy vegetables, of course! I love using baby spinach here because you can barely taste it, although kale is great too. Freeze the vegetables ahead of time (or buy frozen vegetables) to give your smoothie the best frosty texture.
Half a frozen banana – It sweetens the smoothie and makes it thick and creamy. Tip: Wait to put bananas in the freezer until they are ripe and spotty! Ripe bananas will add more sweetness to a smoothie than unripe ones.
Almond butter and chia seeds – They add healthy fats and make the smoothie creamier.
Frozen orange segments – They add a delicious natural sweetness (and tons of vitamin C!) to this colorful spinach smoothie. I like to buy a bunch of fresh mandarins or clementines, peel them, and freeze them to have on hand.
No sweet almond milk – To get the blender moving! Use store-bought, or make your own.
And ice cubes – To perfect the frosty texture of the green smoothie.
Find the complete recipe with measurements below.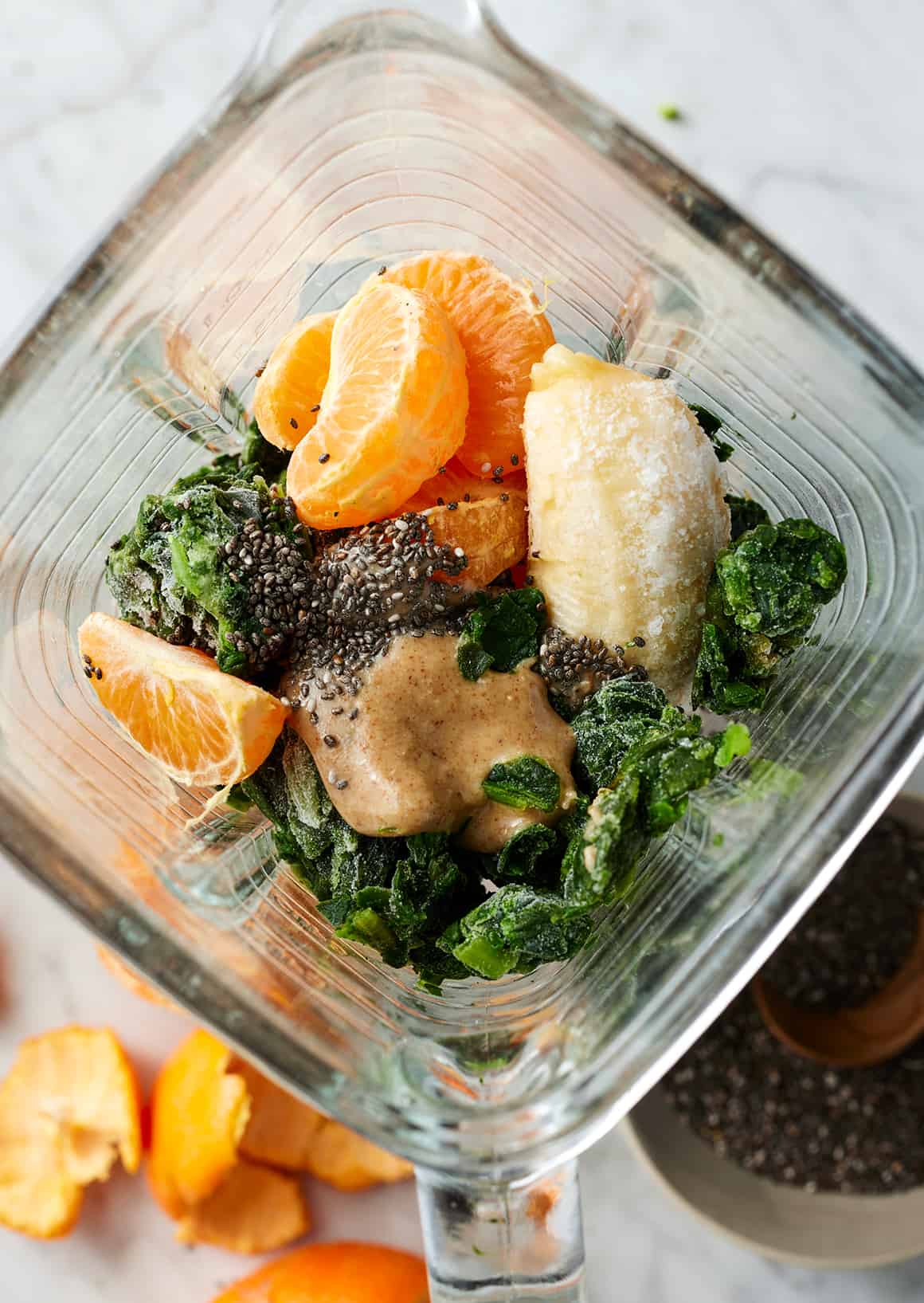 Green Smoothie Recipe Variations
While I love this green smoothie recipe as written, there are all kinds of ways to change it up! Feel free to adjust it to suit your taste or use what you already have. Here are some ideas to get you started:
Change the vegetable. Spinach and kale may be the most popular greens to put in a smoothie, but they're not the only options! Try replacing them with half the amount of Swiss chard, collard greens, or even frozen broccoli, which add even more flavor. Cucumber would be a great addition too!
Enjoy the fruit. When it's not citrus season, I like to make this green smoothie recipe with frozen mango or pineapple. Your favorite frozen berries will be delicious too.
Use another liquid base. Instead of almond milk, mix this smoothie with a splash of coconut milk, oat milkor even orange juice.
Replace the bones. Use hemp hearts instead of chia.
Add a protein boost. Mix in a scoop of protein powder or Greek yogurt.
Make it sweeter. If your smoothie tastes less sweet than you like, mix in a little honey, maple syrup, or one of your favorite natural sweeteners. Or add more frozen fruit!
Let me know what variations you try!
More Favorite Smoothie Recipes
If you love this green smoothie recipe, try one of these plant-based smoothie recipes next: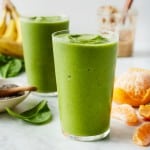 Green Smoothies
Serving 1
Our best green smoothie recipe! It's creamy, frosty, and refreshing. Adjust the amount of fruit to taste depending on how sweet you want the smoothie to be.
1

cup

frozen spinach or kale

½

frozen bananas

½

spoon

almond butter

1 to 2

cups

peeled and frozen orange segments

,

or frozen pineapple or mango chunks

½

teaspoon

chia seeds

,

optional

1

cup

almond milk

,

more as needed to blend

A handful of ice
In a blender, place spinach, banana, almond butter, 1 cup frozen fruit, and chia seeds, if using. Add the almond milk and blend until smooth, adding more almond milk as needed to blend. Add the ice and blend again.

Taste and add more frozen fruit if you want your smoothie sweeter. Blend until smooth, adding more almond milk if needed.
Other Articles