Zipper braids are the coolest type of braids for young girls. We all know how excited kids get when they have a new hairstyle. Why not be the best mom ever and try this super fun hairstyle? All her friends will be impressed and they will want to copy the zipper braid.
What is a zipper braid?
Imagine a braid that looks like a zipper, hence the name. It's basically a type of braid where you create this beautiful illusion of interlocking strands, making it look like a zipper. Pretty funky, huh? The style is quite versatile and unique, and a definite conversation starter!
Who should try zipper braids?
If you ask me, I would say that anyone who likes to experiment with different braided hairstyles should give it a try. They are especially great if you have medium to long hair, just because you will need some length to really show off the design.
But let's not forget the people with shorter hair. Sure, it might be a little more challenging, but hey, who doesn't love a good hair challenge, right? Also, these braids work well with both straight and curly hair, so almost anyone can pull off this style.
One thing though, if you are new to braiding, it might be a bit tricky at first. But don't worry, with a little practice, you'll get the hang of it in no time. And believe me, once you get it, you'll turn heads wherever you go!
How to do zipper braid hairstyles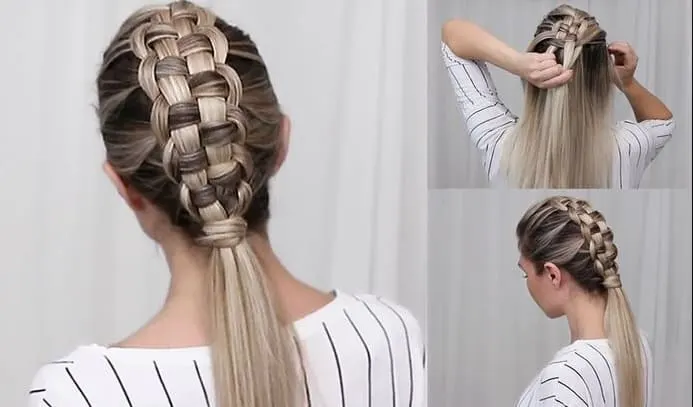 You'll find zipper braids a bit tricky at first, but the braid will be easier the next time you do it again. Start with wet hair to have more control. Get three strands of hair in the part where you want to start the braid. Put the middle part on top of the left part. During the next step, you will need to take the section that is currently in the middle and put it on the correct section. Take the middle strand, put it on the left side again and move it under the two strands and take it all the way to the right.
This is where things get interesting. Give this strand to your girl, so she'll hold it while you braid. Take a strand of hair from the right and circle it in the middle, then under the left and right.
Give it to your daughter to keep. Get more hair from the left and take it over the middle strand. Put it under the right strand and give it to the girl to hold it. Take the first thread you gave her, and put it under the one you just gave her. Include it in the middle section.
Now you can get another strand from the right side, pass it over the middle, then under the left one. Give it to your daughter to hold it. Take the other strand you gave her, put it under the new one and add it to the middle section. From now on, that's what you have to do until the end. Simply repeat this on both sides.
Trendy zipper braid hairstyles
Here are 17 of the most elegant zipper braid styles that girls and young women can try this season.
1. Fishtail zipper braid
This style is all about merging two beautiful braid styles into one. The complex weave of the fishtail braid gets an edgy twist with the insertion of the zipper braid on one side.
Ideal for: This hairstyle is great for girls with long straight hair.
How to design: Start with a traditional fishtail braid. Once you've done that, pick a side and start zip braiding. This adds a wonderful visual texture to the smooth flow of the fishtail braid, making it a unique and attractive style.
2. Crown zipper braid
Ready to feel like royalty? The crown zipper braid is a stunning hairstyle that surrounds your head just like a crown.
Ideal for: Perfect for any girl who wants to feel like a princess for a day.
How to design: Start the braid on one side of your head, gradually adding more hair as you braid around the head. This may take some practice, but once you get the hang of it, you'll have a beautifully braided crown. This style is perfect for fancy events or whenever you want to feel extra special.
3. Dutch zipper braid
A combination of the classic Dutch braid with the trendy zipper braid!
Ideal for: This style works well on straight and curly hair of medium to long length.
How to design: Start like a regular dutch braid, but instead of braiding under, you braid over. Then combine the zipper braid in the middle of the Dutch braid, creating an interesting contrast between the two braid styles.
4. Zipper Braid Updo
Elegant yet distinct, this style is sure to stand out at any event.
Ideal for: Girls with longer hair who want a sophisticated updo.
How to design: Start with a zipper braid from the side, bring it back and fasten it to the bun. It is a tasteful stylish look that is perfect for parties, weddings or any formal occasion.
5. Mohawk zipper braid
Bring out your adventurous side with this edgy hairstyle!
Ideal for: This bold style works best on medium to long hair.
How to design: Create a zip braid right down the center of your head, from front to back, leaving the hair on the sides loose. This funky look is definitely a statement maker!
6. Boho Zipper Braid
This hairstyle has a relaxed and free vibe, perfect for casual outings or beach vacations.
Ideal for: Girls with long, wavy hair will rock this look.
How to design: Start a zipper braid at the top of your head, and let it blend into loose, beachy waves. This is the perfect boho-chic look for a sunny day outside.
7. Zipper braid ponytail
Here's a fun twist to the classic ponytail!
Ideal for: This style works well with medium to long hair.
How to design: Start with a side zip braid, then gather the rest of your hair into a high or low ponytail. This is a wonderful way to add a touch of magic to an everyday hairstyle.
8. Side braid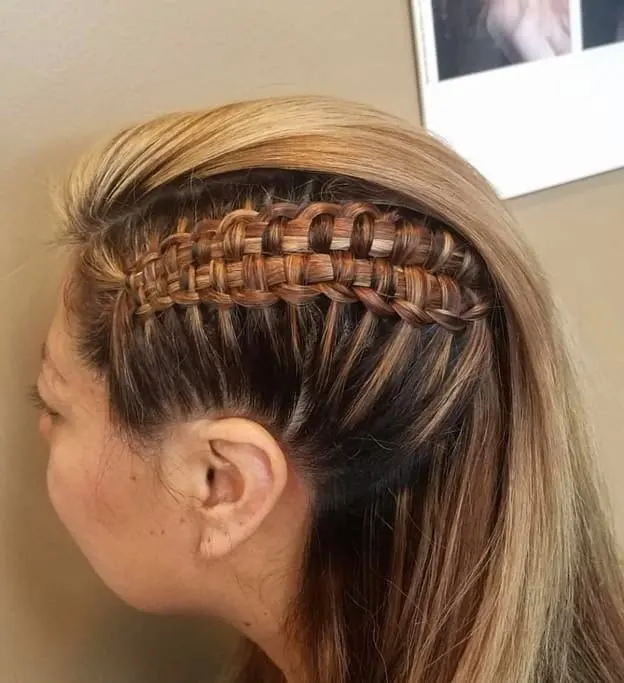 You can choose a side and do the zipper braid there. This is a great mane when you don't want to braid all your hair.
Ideal for: It is ideal for all hair lengths. You can also make it smaller or bigger.
How to design: It Braided hairstyle Includes the same braiding technique on one side of the hair.
9. Mix braids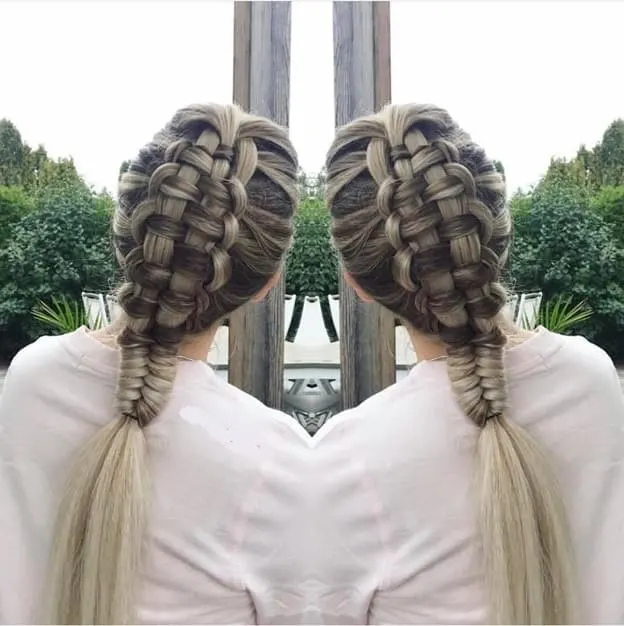 Hairstyles are much cuter when you mix different braids like snake braids.
Ideal for: Any girl can rock this fabulous mane.
How to design: Start with your favorite zipper braid and finish with any other type your daughter likes.
If you love adding cute details to hairstyles, you'll want to recreate this look.
Ideal for: Great for kids who have the patience to just sit and wait.
How to design: After the zipper braid is done, you can also add fun lace details on the sides.
11. Double zipper half up
Half up half down hairstyles Can be upgraded with zipper braids as well.
Ideal for: Great for young women who don't like to put their hair up.
How to design: Make two zipper braids, one on each side. Unite them in the middle and finish with another type.
12. Colored zipper braid
So many fun colors that are safe for your kids hair and can be a cute change too. They are not permanent, so why not let her enjoy herself.
Ideal for: Will work for any young lady of any age.
How to design: Make a huge zip braid and see how amazing it looks with all the trendy colors included and Loop braids.
13. Diagonal zipper braid
This amazing diagonal braid is a great hairstyle that is so eye-catching. This is a unique way for your young daughter to stand out in the crowd. Soon all her friends will be asking their mothers for the same hairstyle.
Ideal for: This hairstyle will be more effective for girls who have long hair. young Women with medium hair Might as well try and copy it.
How to design: Start the braid from the front on one side and weave in a diagonal direction to the opposite side.
14. Starburst Zipper Braid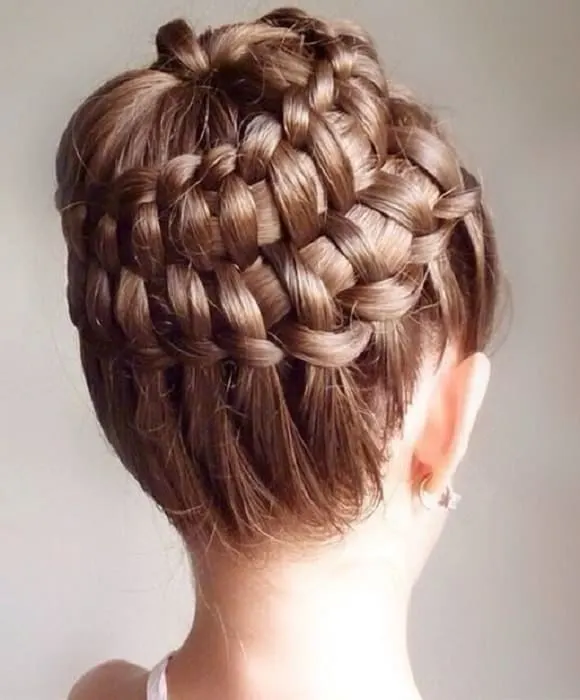 This is the trickiest type of zipper braid hairstyle on the list. But don't let that scare you. It's a combination of a starburst and a zipper braid and it's beautiful.
Ideal for: Perfect for moms who love to experiment with their little girls hair. It may take time to knit it at first, but the young lady will be so happy. The hairstyle is even better for special occasions.
How to design: Combine both types in a stunning updo. To get to know the Star Cross, we recommend watching the guide.
15. Double zipper ponytail
These basic doubles low ponies so boring It's time to spice them up with the most elegant zipper braids.
Ideal for: This is such a cute hairstyle that all girls can try. It works even for short and medium hair.
How to design: Start by dividing your hair into two halves with a middle part. Braid in front and stop where the neck begins. Leave the rest of the hair in a ponytail.
There is nothing better than a braided pony.
Ideal for: This hairstyle looks much more flattering on long hair. But if your daughter likes it so much, you can try to make it work on short hair.
How to design: Flaunt a huge zip braid in the middle, and accessorize with two smaller braids on the side. Put the rest of the hair in a smooth ponytail.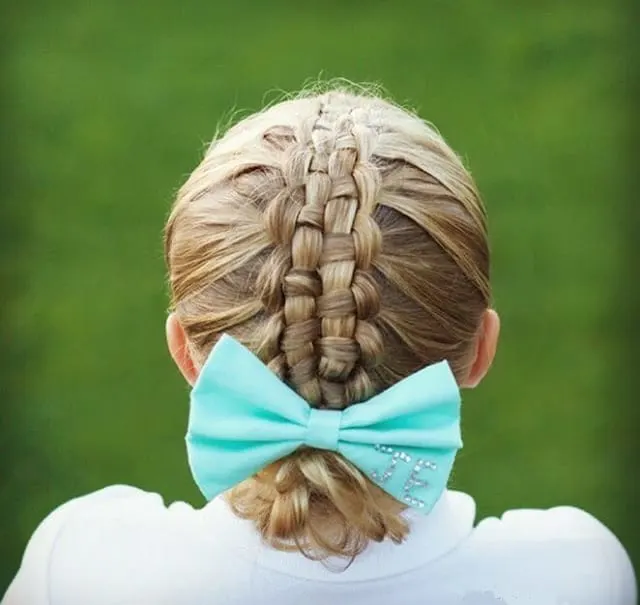 You can look to this cool pattern whenever you need a chic makeover for your kid.
Ideal for: Will look amazing on all little princesses, even those with shorter hair.
How to design: Make a classic zipper braid and decorate it with a cute bow at the bottom.
Young girls find unique hairstyles so much fun. Let them be different by trying these amazing zipper braid patterns. After your first time, you'll almost be a pro at braiding. Most of the looks are interesting and will be great for all ages and hair lengths.
Other Articles