Join the Love & Lemons Cooking Club Challenge this month! It's easy to enter, and one lucky winner will receive a prize. Find all the details below.
Our Cooking Club is a fun way to celebrate the Love & Lemons community of readers. The concept is very simple–every month, I choose a recipe. You can do it, and you email me a picture. At the end of the month, I randomly select a winner to receive a prize.
I love the sense of community that comes from so many people cooking a recipe every month. We're starting our January challenge today with our Kale Caesar salad recipe, and I hope you can join in the fun. Here's how it works:
Join the Love & Lemons Cooking Club
Each month, I choose a seasonal recipe. Sign up for our email list so you know as soon as I share each month's recipe.
Make that recipe during the month.
Send a picture of it to LoveAndLemonsCookingClub@gmail.com at the end of the month. This time, the deadline is January 31st!
For a bonus entry, leave a comment (include your first and last name) in the challenge recipe blog post after you submit your photo.
For another bonus entry, post your photo on Instagram, tagging @loveandlemons and #loveandlemonscookingclub.
The Prize: A $200 Whole Foods Gift Card!
At the end of the month, I'll randomly pick a winner and post all the photos. This time, we are giving away a $200 Whole Foods Gift Card.
I love this recipe because it's so versatile (serve it as a side dish or eat it for lunch!) and it's so delicious. Tender kale mingles with crisp romaine, garlic croutons, and shaved Parm, and a creamy, tangy dressing binds it all together. Raise it to roasted chickpeas and diced avocado for more texture!
I offer two dressing options in this recipe. You can make it easy for me Greek yogurt Caesar dressing or my (equally easy) cashew-based vegan Caesar dressing. Both bright, briny, and creamy–you can't go wrong! If you want to make the salad vegan, make the dressing vegan and replace the cheese with sprinkles of Vegan Parmesan. Hope you love this one!
Enter the January Challenge
Want to enter? Here's what you need to do:
I'll pick a random winner and share all your photos in early February.
Last month's recipe
Last month's recipe was ours broccoli cheddar soupwith the this vegan broccoli soup as a dairy-free alternative. Creamy, airy, and full of cheesy flavor, these recipes are two of our favorite comfort foods–especially Jack's! We are so happy to hear how much you and your families love them. We'll be making these on repeat throughout the cold winter months, and I hope you will too!
Here are all your photos: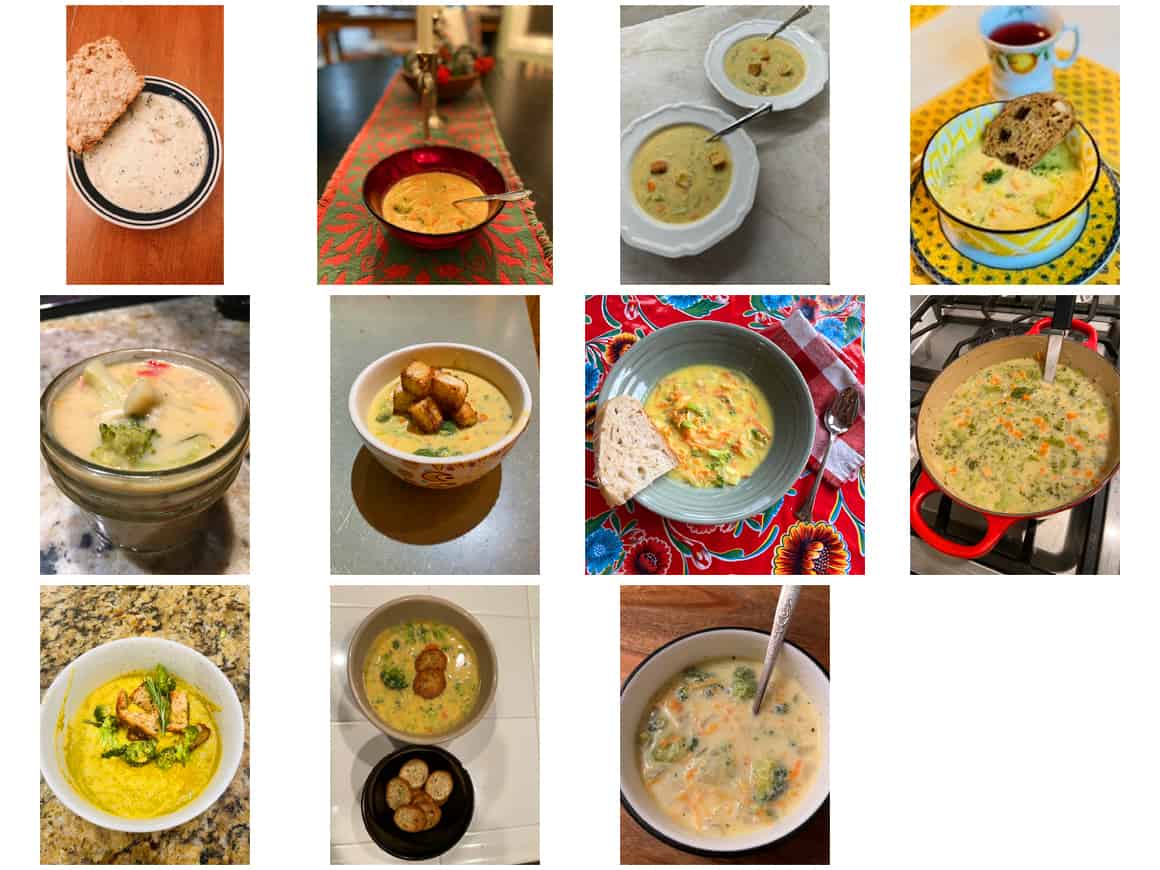 …and Katie is our winner!
To Recap
Join the January Cooking Club Challenge by…
Happy cooking!