Running your salon business the right way can help it gain significant traction. But for this to happen, you need to avoid various common mistakes that hairdressers make on clients.
These mistakes will eventually kill your career, whether you are a beginner hair stylist or a pro. Fortunately, if you understand these career-crushing mistakes, you can avoid them or correct them before it's too late.
Common mistakes that hairdressers make to their clients
Your clients trust you with their hair. It's a great honor, but even the most experienced hairstylists make mistakes that disappoint their clients.
It doesn't matter if you are a beginner or a seasoned hairstylist; We all make mistakes! Avoid common mistakes as a hairstylist when treating your clients. Make them happy and keep coming back for more.
#1. No more learning about customers
Customers are quick to notice if you value them. You can get carried away in the services and forget the needs and desires of the customers. For example, customers crave recognition when they visit your salon. It can be simple things like calling them by their names, remembering their favorite hairstyles, and the last time they visited.
You're more likely to lose customers when you fail to show that you care on a personal level. You can avoid this mistake as a hairstylist by learning more about the client. Write down their names, the hair treatments they like and more.
You can also write down essential background information that they remind you of. While it's impossible to know everything about every customer, make sure you have basic information about them. You'll create a great customer experience by letting your customers know you appreciate them.
#2. Not asking enough questions
Some hair stylists get confused when it comes to asking clients questions. They are afraid to ask too many questions and bother their customers. Plus, they don't know what question to ask. To avoid ruining the customer experience, they fail to ask enough questions.
The truth is, the more questions you ask, the more you learn about your customer's needs. You should ask some of the following questions:
How did they do with their hair last time?
Are there any changes or improvements they want
Do they want their hair dyed?
What products do they use on their hair?
Will they consider getting a haircut?
The goal here is to learn more about your customer's needs and wants so you can offer quality services.
#3. Not giving advice or suggestions
Customers will see friends or celebrities with new styles and want to do their hair the same way. But they are not sure if this style will work on their hair. To avoid dropping money on guesswork, they may come to your salon to hear what you have to say about the style.
Because customers trust you as an expert, they expect to get the best advice or suggestions from you. However, they will look elsewhere if you cannot offer a professional opinion.
If the style can't work with their hair, let them know why and be honest. Offer alternatives that are closer to their desired look. Clients will appreciate and pay for services when you provide reliable advice and suggestions.
#4. Gossip about other customers
Another mistake you can make is gossiping about other customers when handling a customer. Your customers will hate it when they hear your staff talking about another customer's appearance or behavior. Whether you speak positively or negatively about another customer, it shows a lack of professionalism in your business.
Customers are free to share more about their friends or families. However, this does not mean that you should disclose information about other customers or employees. You can share your personal life but avoid including others in the discussion.
If you gossip about other people, your customers will believe that they are the next to discuss. Focus on your customer and make them feel like they are the only customers you serve.
#5. Ignore feedback
One of the most common mistakes hair stylists make with clients is ignoring their feedback. Responding to your client's feedback can make or break your salon business. Some hair stylists give the impression of being disinterested when their clients complain or criticize their work.
A good haircut for your taste can be a Bad haircut for a customer! You can be 15 years of experienced hairstylist but a Bad hairdresser to customers because of how you treat their opinions.
Another area that hair stylists ignore is feedback on social media. Feedback can be negative or positive, but regardless of its nature, your customers want you to respond. If you are faced with negative feedback, avoid arguments or excuses.
Respond to complaints by acknowledging their concerns and apologizing. Then promise your customers that you will improve in said areas.
Remember, social media prospects are watching. They will decide whether to visit your salon based on your response to the feedback.
#6. Not making enough time for customers
When building a clientele, you may fall into the trap of overbooking your schedule. This results in more meetings than you can handle. As a result, you concentrate on quantity over quality, a huge mistake of many Hairdressers and hairdressers often do.
Whether you have a large team or not, it's a good idea to schedule meetings that you can handle easily. Your clients expect you to invest enough time in the consultation, coloring, styling or chemical hair treatment phase. Providing substandard services because you want to serve more customers can affect your business.
#7. Leave your customers to answer phone calls
Answering phone calls when you are with customers is rude. But what if the calls come from other customers who want to make an appointment with you?
If you're in this situation, try to strike a balance so that everyone feels like you're giving them your undivided attention.
A constantly ringing phone is a nuisance to your customers. You can set it to silent mode and finish dealing with your client. After work, call them back. If the call is from a customer, let them know you are handling another customer.
Alternatively, ask one of your staff members to answer. You can politely ask your client to excuse you from answering the call. Spend only a short time on the conversation, as your customer may feel ignored.
#8. Not clear about the services offered
Failure to provide clear information about the services offered may adversely affect customer recruitment. Some hair stylists believe that everyone can tell the services provided just by reading the name of the salon.
Like any other business, you need to be clear about your services to ensure your customers receive this information as quickly as possible. Most clients have busy schedules and don't have all the time to call or visit your salon to learn what you have to offer.
You should put this information on your website or social media for easy access. Plus, display signage, photos and writing to showcase your most popular services.
#9. Failed at retail
If you've ignored retail in your salon business, you're missing out on a bigger slice of the pie. Most customers will want to visit salons that offer beauty services and products. This is especially true for customers with tight schedules who don't want to go from store to store looking for the products.
Even if you hate selling, taking customers through your retail can come with bigger surprises. They may want to learn more about the products and buy them. They may also refer their friends to your business.
Choose products from reputable brands and stock them in your display. Make sure the shelves are clean and organized to attract customers.
#10. Failed to offer online order
Do you wait for clients to call or come to your salon to book appointments? If this is the case, you are making a hair stylist mistake that can hurt the growth of your business.
Since potential customers spend an average of 6 hours and 58 minutes online per day, they are more likely to place an order online. They only need a click of a button to book an appointment. It's easier than calling your customer service or visiting your hairdresser.
#11. Using dirty equipment on customers
A beauty business whose hygiene standards are lower than its price may increase its reputation and customers. Due to the increased risk of viral or bacterial infections, people are more careful about hygiene. If you do not observe proper hygiene in your living room, you are creating a breeding ground for bacteria.
Dirty equipment such as pedicure and manicure tools, towels, combs, scissors and hair dryers are a weak point for customers. No one wants to find body fluids, hair or skin of other customers on the equipment.
Listen to other hair stylists or clients to learn about unhygienic practices. For example, avoid double dipping when waxing, as this can transfer bacteria to the wax jar. Also, avoid believing the myth that bacteria die when you heat the wax.
#12. Changing salons too often
The need for more space or property issues can make you move your salon business. you can too Leave your current living room Work under a different boss if you are an employee. However, you will lose many customers when you move.
The truth is that some clients will not follow you to your new salon. They may also think you have professional problems due to frequent job changes. Avoid frequent salon changes to keep your loyal customers and get more referrals.
#13. Failure to thoroughly check the client's hair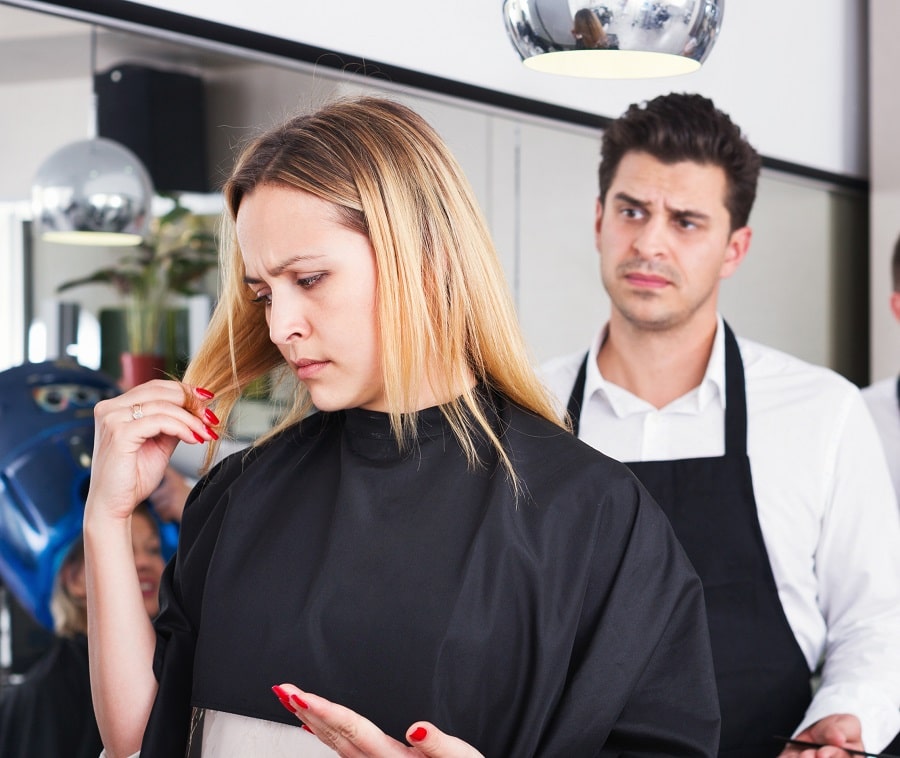 Some hair stylists focus on giving the clients what they want and neglect to check the condition of the hair. Hair that is too thick, split ends and over-processed hair is easier to spot.
However, certain problems, such as dry hair, dandruff, hair loss, hair breakage and fungal infection, require a thorough evaluation.
You can notice these problems and inform your clients during the consultation phase. For excellent customer service, advise your clients on what to do before styling their hair. For example, a treatment product can be recommended during and after styling.
So what mistakes should a hairstylist avoid?
Here is the summary of the mistakes you should avoid as a hairstylist.
No more learning about customers
Not asking enough questions
Not giving advice or suggestions
Ignore feedback
Gossip about other customers
Not making enough time for customers
Leave your customers to answer phone calls
Not clear about the services offered
Using dirty equipment on customers
Failed at retail
Failed to offer online order
Changing salons too often
Failure to thoroughly check the client's hair
Overpromise and underdeliver the expected results
Not staying up to date with the latest trends and styles
Pushing products or services that the customer does not need or want
Overbooking or double booking, leading to rushed or inadequate services
Not properly training or supervising assistant stylists or apprentices
Being too rough or aggressive with the client's hair or scalp
Other Articles