Loaded with delicious veggies like peppers and artichokes, this vegetarian pizza will be a hit at your next pizza night! Fresh basil takes it over the top.
If you ask me, "What's the best vegetarian pizza in Chicago?", I have to ask a few followup questions before I answer. Like, what kind of veggie pizza are we talking about here? Because for me, when it comes to pizza, nothing best. Sometimes I'm in the mood for a Neapolitan-style pie with an airy crust and minimal toppings. And sometimes I want something inventive, like vegan spinach and ranch pizza on Middlebrow in Logan Square. And then there are nights when there's nothing to do but a classic delivery pizza.
That's where this veggie pizza recipe comes in. I do it when I can really go for said delivery pizza, but we just got takeout the night before or the delivery time sounded waayyy too long or etc., etc., etc. I'm sure you've been there: you want to order, but for whatever reason that night, it just doesn't make sense.
This vegetarian pizza recipe is a lifesaver in those situations. Piled with bell peppers, briny artichokes, red onion, fresh basil, and 3 types of cheese, it tastes like a delivery pizza (maybe even better?), and is quick and easy to make at home. This is one of our weeknight staples. Hope you love it too!
Veggie Pizza Recipe Ingredients
Here's what you'll need to make this vegetarian pizza:
Pizza dough – Look for store-bought dough in the refrigerated section of your grocery store, or make your own dough! Tip: Homemade pizza dough freezes well. Make a double batch, and keep half in the freezer for your next pizza night!
cornmeal – For stretching the dough.
pizza sauce – I want to make a simple no-cook sauce in a food processor with San Marzano tomatoes, garlic, oregano, olive oil, and salt. For a shortcut, store-bought works just as well!
Asiago, pecorino, and mozzarella cheese – Yes, 3 types! I love the combo of melty mozzarella, funky Asiago, and salty pecorino. To put it simply, look for "pizza" shredded cheese blend at your grocery store.
Roasted red pepper – A classic veggie pizza topping! Jared and homemade roasted peppers both work here.
Artichoke hearts – They add a tangy, briny flavor to this vegetarian pizza.
red onion – Slice it thinly to soften and sweeten in the oven.
Jalapeño pepper – It's unconventional but delicious. I like the heat kick! For more spice, top the pizza red pepper flakes after it bakes.
Extra-virgin olive oil – For misting.
And fresh basil leaves – Spread them over the top of the pizza when it comes out of the oven.
Find the complete recipe with measurements below.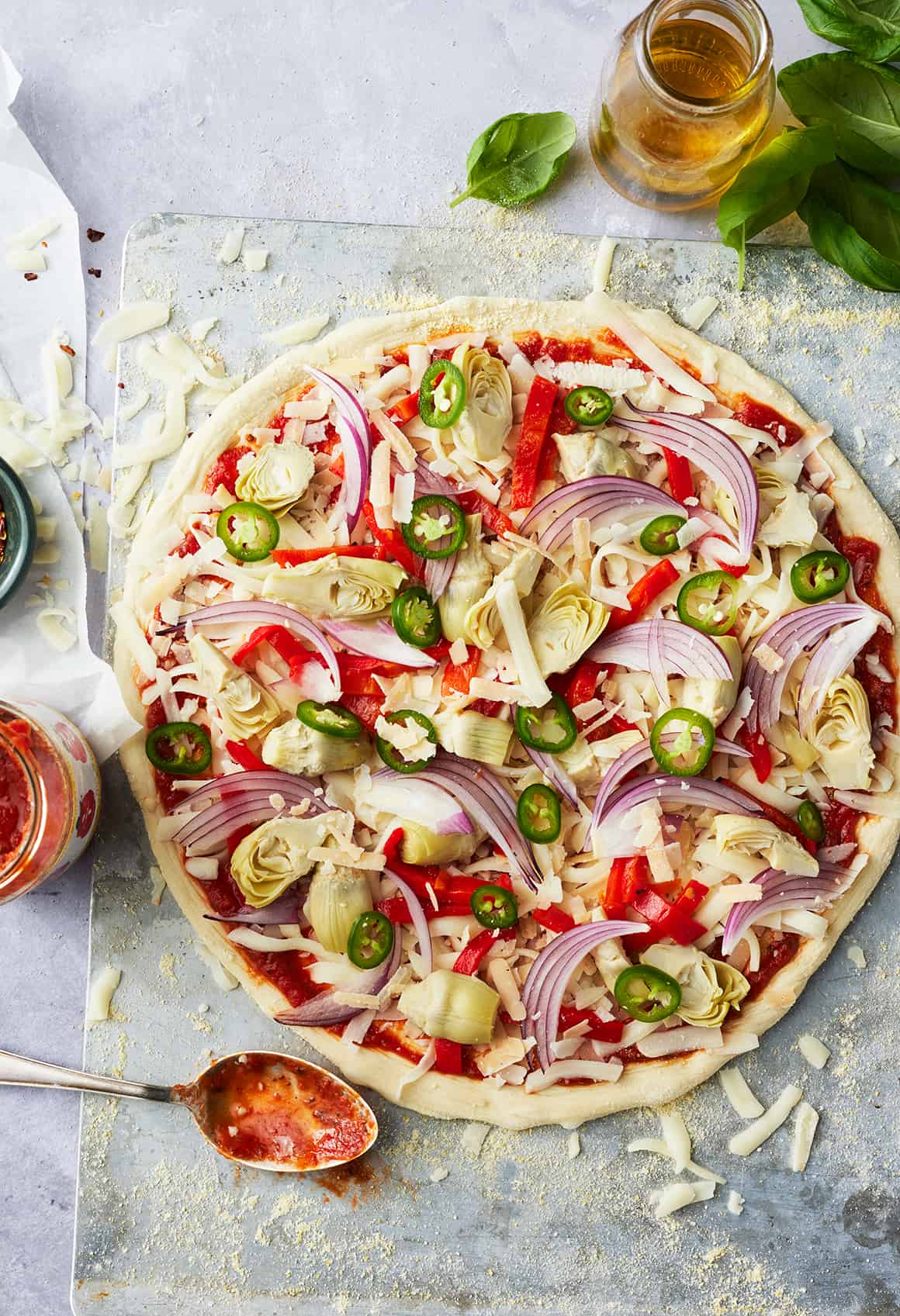 Making this vegetarian pizza recipe is almost as easy as ordering delivery!
Roll out the dough, spread the sauce, and add the cheese and vegetables. Bake at 500°F until pizza crust is golden brown and cheese and toppings are browning, 10 to 13 minutes.
Remove from oven and sprinkle with fresh basil and red pepper flakes. Slice and serve!
Vegetarian Pizza Recipe Tips
Let the dough come to room temperature. If you're using refrigerated store-bought dough, or homemade dough that you've made ahead of time and kept in the refrigerator, be sure to allow it to come to room temperature before you roll it out. As it is heated, it will become softer, softer, and easier to shape into a large oval. (Cold dough is tough and tears easily.) I try to leave my dough on the counter for at least an hour before I roll it out.
Dry the peppers and artichokes. You don't want all that brine to make your pizza soggy!
Grate the cheese through the large holes of a box grater. Usually, I grate the pecorino cheese finely, using the small holes of a box grater or microplane zester. But for this pizza, I grated all the cheeses (including the pecorino!) on the large holes of a box grater. I love how the big slices come together, creating a uniform cheesy layer under the vegetables. So get that zester out! You only need large holes in your grater for this veggie pizza.
Want something on the side? You can't go wrong with pizza and salad! This veggie pizza is delicious to me Chopped Italian salad, Caesar salado arugula salad.
Vegetarian Pizza Recipe Variations
I love this vegetable pizza recipe as written, but if you want to change it, by all means, do! So many veggie pizza toppings would go well with this.
Add sautéed mushroomssliced ​​olives, or mini broccoli florets.
Use pepperoncini instead of jalapeño.
Brush the crust with pesto instead of pizza sauce.
Replace the pecorino with Parmesan cheese.
No basil? Spread the pizza with fresh arugula instead.
Let me know what variations you try!
More Favorite Pizza Recipes
If you love this veggie pizza, try one of the delicious pizza recipes below:
Vegetarian Pizza
Serving 4
Our favorite veggie pizza recipe! It's loaded with delicious vegetarian toppings like roasted red peppers, artichokes, onions, and basil. This will be a hit at your next pizza night!
1

pound

pizza dough

cornmeal

,

for the baking sheet

1

cup

shredded low-moisture part-skim mozzarella cheese

½

cup

shredded Asiago cheese

½

cup

shredded pecorino cheese

,

use the large holes of the box grater

⅔

cup

pizza sauce

½

small red onion

,

thinly sliced

2

jarred roasted red peppers

,

drained, dried, and thinly sliced

1

(14-ounce) can artichoke hearts, drained, patted dry, and quartered or coarsely chopped

1

jalapeño pepper

,

thinly sliced, optional

Extra-virgin olive oil,

for misting

Red pepper flakes

,

optional

Fresh basil leaves
Prepare the pizza dough according to this recipeor if using store-bought dough, let it sit at room temperature for 1 hour before rolling out.

Preheat the oven to 500°F (or as high as your oven can go). Sprinkle a little cornmeal in the center of a large baking sheet. Place the dough on the baking sheet and stretch it into a large oval.

In a small bowl, mix the mozzarella, Asiago, and pecorino cheese.

Spread the sauce evenly over the dough. Top with the cheese mixture, the onions, red pepper, artichokes, and jalapeño, if using. Drizzle with olive oil and bake for 10 to 13 minutes, or until the crust is browned around the edges and the cheese and toppings are lightly browned. The time depends on the heat of your oven.

Remove pizza from oven, sprinkle with red pepper flakes, if desired, and top with fresh basil leaves. Slice and serve.